MARKETS :
BLOCKCHAIN, CRYPTO-CURRENCIES CORNER:
$BTC  
GAP N GO TRADE :
$ZS
…HAS BEEN A GAPPER ON 4 OF THE LAST TRADING DAYS …AND THE BIG SCORE WAS TODAY ! This is why I watch the gappers !
POSTS AND TRADES + TWEETS :
$OPHT
…BUY @ $3.66 ENTRY ALERT I GOT FROM gspix CHAT ROOM TRIM AND TRAIL NOW $3.97…COULDN'T HOLD $4
$OPHT
, TRIM MORE HERE $4.35
from earlier = teeveeJun 7th,
8:09 am
LOOKING AT
$AXON
…BUY TRIGGER $5.88, 15C STOP…NOW …trim +trail @$6.22
$AXON
…TRIMMED ANTHR 1/3 AT $6.52…duh !
$MDXG
="WASH N RINSE" TRADE RULES = TRIGGER BUY $6.35…THEN "TRIM + TRAIL" BY 1/3 OF UR POSITION…$6.77…$7.48…
STOP LAST $6.97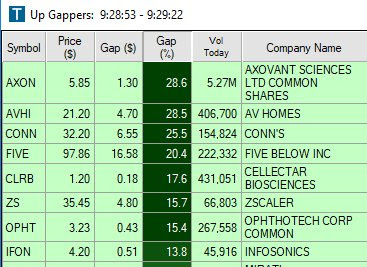 FUSZ NEWS:
.78 TO .84 TODAY !
POSTS TODAY:
I suspect salespeople that start using it, will tell friends who are salespeople at other companies, so that of course is spreading by word of mouth. But definitely a salesperson from a company that isn't using it, going up against a salesperson from a company that is, once they figure out how that is why their competitor is doing so much better, they will definitely want to start using notifiCRM.
Read More: https://investorshangout.com/post/view?id=5077681#ixzz5Hl43dqqL
Rory has kept repeating a few things!
1. Those 3 companies
2. 60 to 90 days….
And we haven't had a drip of a PR or an 8K and there is a real reason for that.
I believe Rory is now gearing up for the next run. That last round was a tough one, took some punches, but Rory and #teamfusz got their breath, the NASDAQ bell is about to ring and they are coming out swinging hard.
Wait for it wait for it, then when PR's and 8k's start dropping one after the other just dousing the Bohn Fire with more and more octane we will blow past the last high!
Read More: https://investorshangout.com/post/view?id=5078239#ixzz5Hl4YYDhM

THAT'S 30.. ….
Regards and Keep On Winning ,